Lex van den Berghe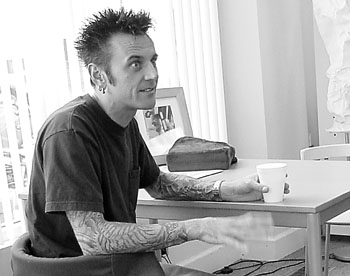 Birthday: born June 18, 1963
Lex currently resides in Santa Cruz, CA with his wife Kelly, and their sons River and Corbin
Core Alliances:
Survivor: Africa - Ethan Zohn, Tom Buchanan
Survivor: All Stars - Kathy Vavrick O'Brien, Jerri Manthey
What we'll never forget:
3rd place in Survivor Africa, after being eliminated at the final immunity challenge.
Voted off 10th in All-Stars, and the first member of the jury.
Lex remains as one of the most colorful characters in Survivor History, being rewarded with an eventual position in Survivor : All-Stars.
What we want to forget:
Trusting his gut more than his brain, Lex instigated a witch-hunt against the person who had cast a vote against him. His gut was convinced Kelly was the one, which led to her eventual demise, even though it was actually Teresa who voted for him.
The unreliability of his gut was confirmed later in the season, when Lex suffered severe stomach issues. During the final immunity challenge, Lex was still ill, possibly contributing to him coming last.
Best moment:
Click Easy Edit to type...
Worst moment:
All-Stars:
Backstabbing Colby, Ethan, and Jerri-all in a row-but cries betryael when he gets backstabbed by Boston Rob
What finally did him in?
In Africa, losing the final immunity challenge
In All-Stars, saving Amber at TC, in the hopes that Boston Rob would hold true to their alliance...he got back stabbed
Quotes:
"Damn it, I'm gonna walk away with that prize. I am here for one thing and one thing only, to take that million dollars and run with it. It's mine!"
"I'm thrilled to be merged. This is where it gets exciting for a game player like me who just enjoys playing the game of SURVIVOR."
"I came into this game the wealthiest man in the world. I have an amazing wife, two beautiful sons, a loving family and the greatest group of friends a man could ever hope for. Everything above and beyond that is gravy as far as I'm concerned."
"Did I lose my eye on the prize? Perhaps I did. But I played it the only way I could, which is the way I am, the person that I am."
What others had to say about him:
Tom in Africa (after an argument with Lex):
"Lex has been the man to watch. He has been winning Immunity and everything else. That's why he is getting all of the votes. If you are going to ride in the front with a white horse, you are going to be shot at."
Where is he/she now?
Still drummer in his indie punk band Lucky Dog, which he plugged on the Survivor: Africa Reunion show.
Lucky Dog's myspace site
Add Photos
Video:
There are no threads for this page. Be the first to start a new thread.